Hello Ethnic Travel Team,

We had an amazing trip. We loved our guide Vang and our driver and the families we stayed with. The places we visited were so beautiful and we loved all the activities (kayaking, boating, riding, walking). We have recommended your company with great satisfaction (and many photos) on social media. Many thanks for making our holiday so wonderful. We feel very honoured to have had the opportunity to have visited some special places in your country.

Warm regards
Vanessa and John
I just wrapped up my three day tour with Ethnic Travel Vietnam, and couldn't have been more impressed. When first arriving to Vietnam I was intimidated with getting around as I had never visited this culture before. Khanh at Ethnic Travel facilited our needs professionally, welcoming, and extremely cost-efficiently.

After our trip finished with the company, he still helped in every aspect possible with getting around, and to all our next destinations while ensuring we had the best price and experiences. Our tour guide Lan in Sapa was amazing, we had a wonderful time with her. And our boat crew for Halong Bay couldn't have better. We checked out many travel agencies here in Hanoi, and couldn't have been more impressed with Ethnic Travel. I recommend using their services with the utmost respect and appreciation for how professional and warm they were to us.

Cole Titus, U.S.A.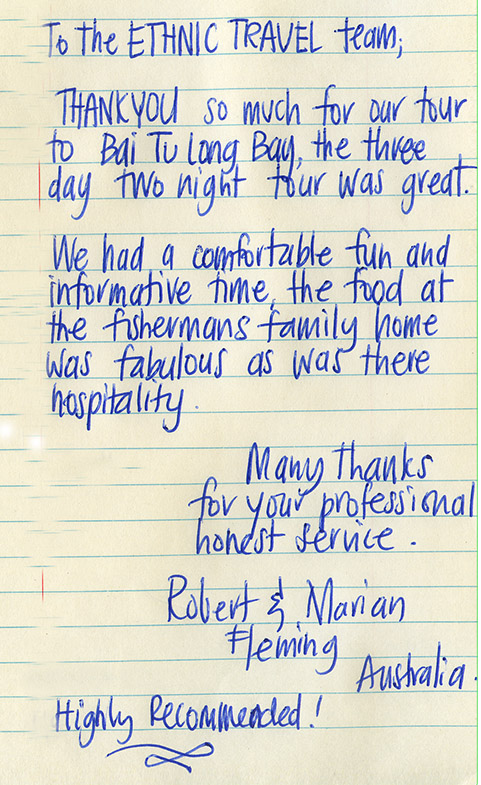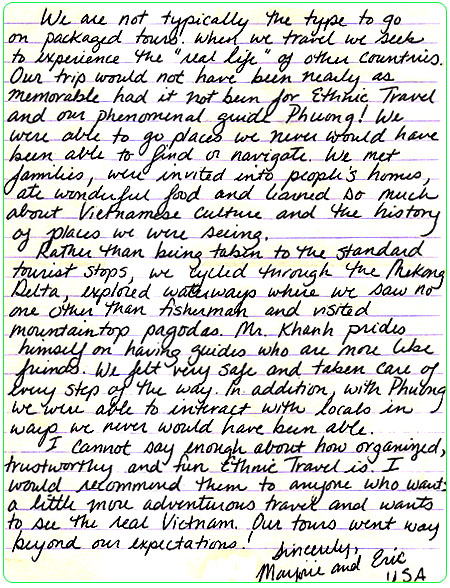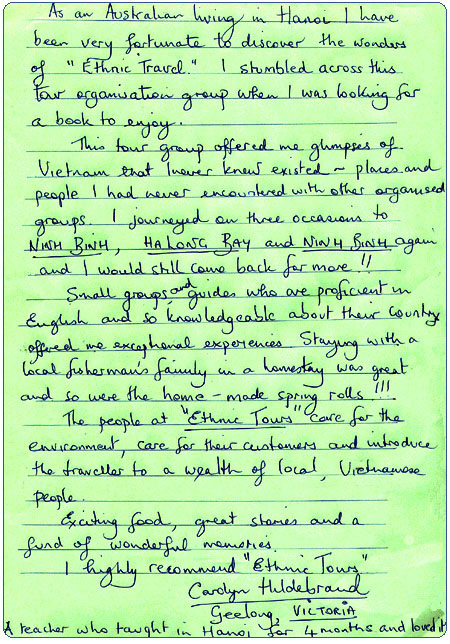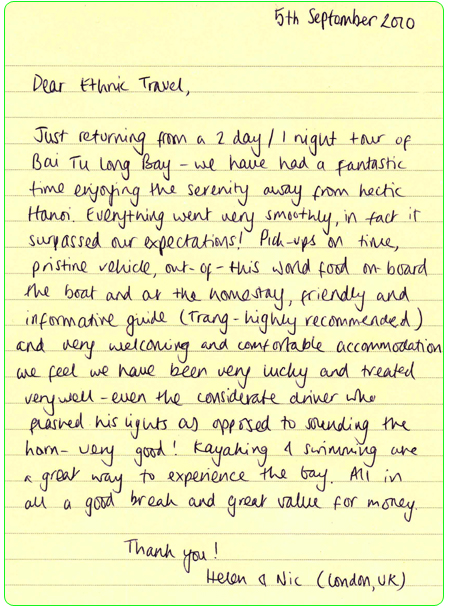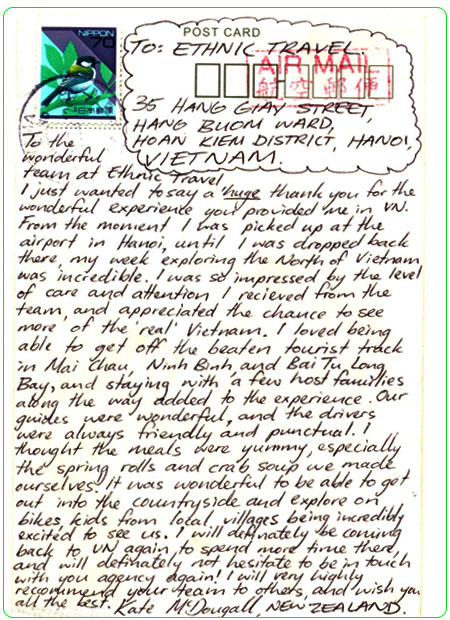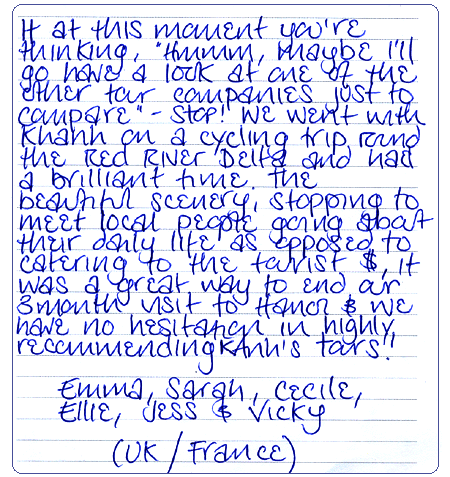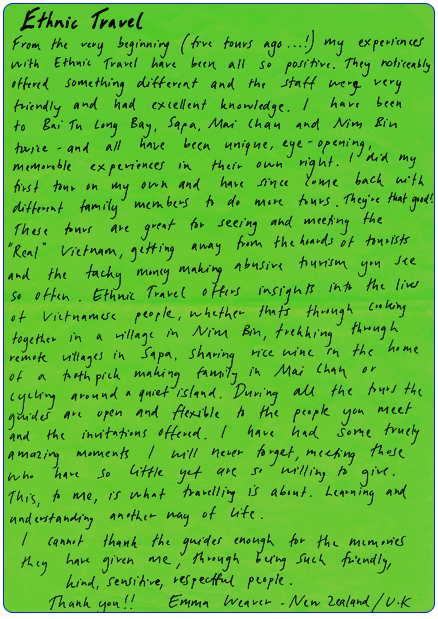 We booked a 3day 2night night trip to Halong Bay with Ethnic Travel, 35 Hang Giay Street, Hanoi. Excellent company - such a professional service and it was worth paying that little bit more. There was only 4 in our group, our guide was fun and told us so much about the area, Vietnam in general and the people.
Everything was organised to a tee (from transport to Halong Bay and back to Hanoi) and on time. The food we got was excellent and we got plenty of it! The junk boat we stayed on was very nice and the ngith we stayed with a local family - they brought us off the beaten track, away from other tours and we could tell by the locals they didn't get to see tourists very often!
The host family home was lovely and clean (electricity went at 11pm - 6am) and we were fed a feast and got to help prep the dinner. I would highly recommend this company for people who want a good tour, good service and genuine, local, friendly guides who are full of knowledge. Well worth the trip for us!!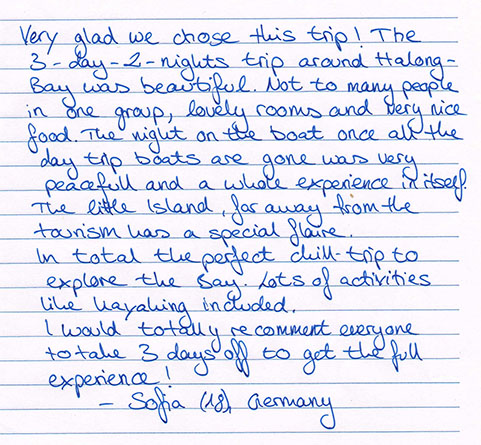 "We recently returned from a 18day tour with Ethnic Travel and absolutely loved them. They wouldn't answer our first email but after a few they got in touch and they have been great ever since. They reviewed our itinerary until we were 100% happy. Very personalised and happy to do change along the way to suit your needs. Careful drivers and very helpful guide (s) who speak English.

Stayed at homestays, pretty basic but excellent experience. Hotels are also reasonable. They stay away from the main tourist trail and if you want the real experience, try them but don't expect luxury. We slept on the floor, had cold showers, walked for 10hrs, ate as the locals. Fantastic trip! If you like this sort of stuff, go with them."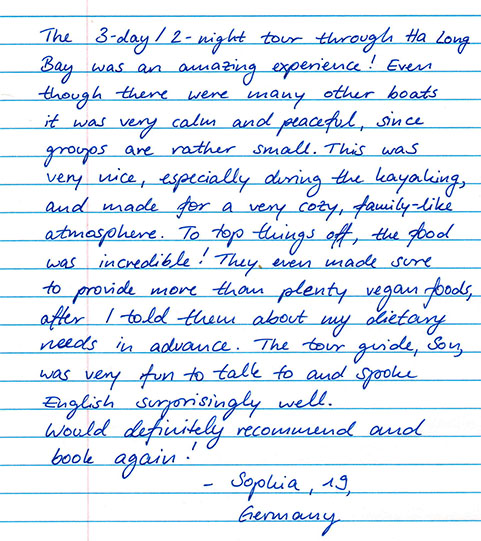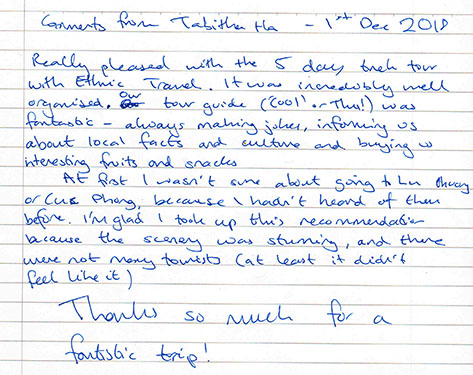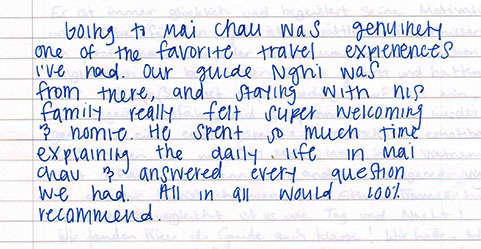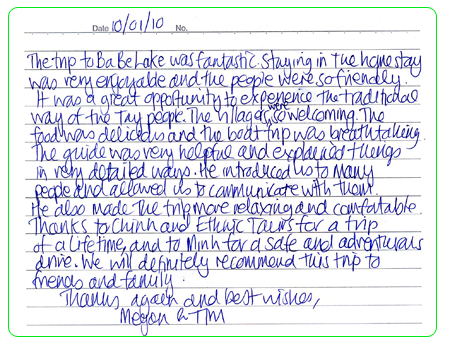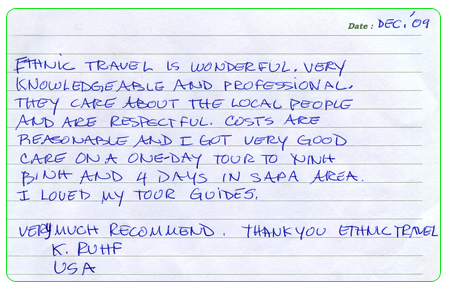 I did a 7D North Vietnam Tour in May 2018 with Guide Henry(Tien) as a Solo Traveller.

Do you ever feel cheated when the tour claims to be an outdoor adventure but you end up only with 1 Hike throughout the entire tour? YEA?

With Ethnic Travel I was Hiking, Cycling, Kayaking, Swimming, Waterfalls almost every single hour of the tour duration. I promise that you will hit the bed at 10pm sharp like a baby after an entire day under the sun.

Do you ever feel frustrated whenever the tour group you join brings you to places of interest along with 1 million other tour groups?

Fret not. Ethnic Travel will customise your tour along to peak tourists timing and whatever your interests are. On my 2nd last day, I was suppose to be on another boat ride. At this point of time I was pretty sick of boat rides and asked if there were any waterfalls or cafes I could hang around in. (CAFES cos millenial 1st world problems. Ofcourse there are no cafes in the ricefields area I was staying at for 2 nights.) They brought me to a waterfall which only the locals go to. It was so nice to soak in the cold waters of the waterfalls in the hot sun.

My review could go on & on about how Ethnic Travel really brings you off the beaten track for young adventurous travellers. Especially millenials who are all about that Gram. Attached is my Instagram for the awesome pictures taken during the tour.

Instagram - nicholas.bay